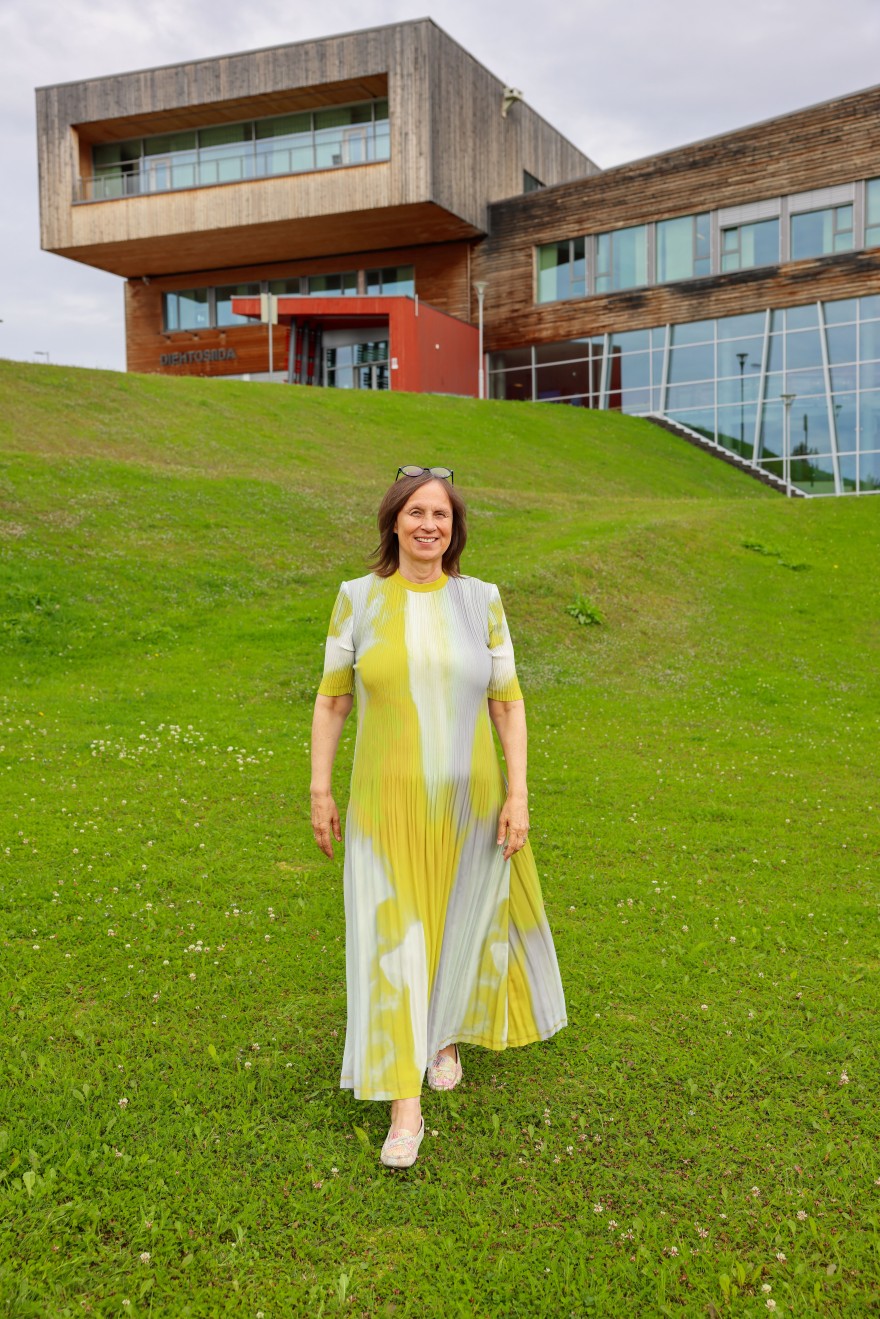 August 09. beaivi 2023
Get to know our new principal
The Sami University of applied scienses' new rector Liv Inger Somby has now been rector for one week. The Sami university of applied scienses is no stranger to her, as she has previously worked in the institution both with recruitment and as a university lecturer in journalism and film education.
- My first job at Sami University of applied scienses was when Asta Balto was rector, at the end of the 1990s. Then Asta asked for my assistance in figuring out ways to share information about the college and how to work with student recruitment. She wanted the help of someone who knows the Sami community well and I had worked as a journalist for a long time. I remember that we traveled widely in Northern Sami areas, both small villages and large places, and we talked about the study opportunities at the college.
She further says that from 2017 to 2021 she worked as a university lecturer in journalism. She was then responsible for teaching, supervising students and coordinating the journalism studies. At the time, Solveig Joks was head of department, and it was she who asked her to start here, to develop Sami and indigenous journalism and film studies. Through her previous job, she has become familiar with both recruitment and the student situation. Liv Inger says that it is important that the students have a good student situation and thus strengthens the college's reputation and recruitment.
- What is important for the college is to give the students a good study offer of high quality, both academically strong, a safe student environment and that they receive good follow-up so that they develop professionally. I am very excited about the autumn's final student numbers. I want us to retain both current and new students, and for them to receive strong follow-up so that they complete and complete their studies in the term. It is therefore important that we, the staff, are able to make arrangements so that we maintain a good level in teaching and research.
In recent years, Liv Inger has worked as communications director in the Sami Parliament and before that she also worked for a very long time at NRK Sápmi, both as a journalist and as part of the management team. She believes that her work experience and contacts with institutions in the Sami community and people will be useful in the headmaster's job.
- In my work context, I have communicated with the Sami community for many tens of years and I believe that it will be useful in my role as rector, as the college has the whole of Sámi as a perspective in its strategy. Part of my work also consists of external communication, so I will link communication and collaboration with other institutions and organisations; both Sami, indigenous and with Nordic countries. She says that she has already started contacting principals and managers at Sami schools. In any case, she will initially take a trip to visit the schools where Sami pupils and students are, both on the Finnish, Swedish and Norwegian side of Sápmi - to establish communication and cooperation.
Get to know the institution
Somby has now only been in the job as principal for a week and says that this week has been spent getting to know the institution better.
- The first week in the rectorship has been very good and calm. Now most of the employees are still on summer vacation and then I have gotten to know the systems, operations and plans better.
She is looking forward to all the staff being back from the summer holidays and says that she first wants to get to know all the departments and the college's subject areas better.
- I want to see what works at the college and what to continue working on. What is good, we will have peace of mind to work with and strengthen further. I want to work with the working environment and the work culture, and want to hear how employees professionally want to contribute to the development and strengthening of an efficient institution. There is also a need to assess how and where the subject areas are to be developed, and then we need good assistants.
Jump right into the challenges
Although Liv Inger has only worked for a week, she is ready to tackle the college's challenges. The government has tightened the state budget for colleges and universities in 2022 and 2023. At the same time, we have carried out and finished large research projects that have generated income and paid many employees. For the reasons mentioned, as well as high price and salary increases, the college has a strained financial situation today.
- My work will also be to improve the financial situation at the Sami college together with the director and the rest of the management team. One way to improve the economy is by ensuring that our students complete their studies, as this strengthens our financial foundation. Furthermore, it is important that we carry out research projects, which also strengthen the college's finances. It is part of my job to communicate with the granting authorities and have a close dialogue with them.
She says that strengthening the college's study offer, subject areas and research is not only important for financial reasons, but also important for the entire Sami community. When the college's academia is developed, Sami and indigenous competence is also strengthened.
Sees opportunities in the Truth and Reconciliation Commission report
For five years, Somby has been a member of the Truth and Reconciliation Commission, which has thoroughly investigated the effects of Norwegianization. On 1 June, the commission submitted its report to the Storting, which also contains conciliatory measures.
- The report has many important topics that describe how Sami society and institutions can be developed, which is important for Sami university of applied scienses. I hope that we at the college, both in research and study, take advantage of it.
I see opportunities to expand the college's activities and will make arrangements to ensure that we secure and develop Sami speakers at all language levels. Norwegianization is as strong today as in the past and Sami society expects education and research that has a theme within Norwegianization and the impact of Norwegianization.
Desires during the Rector's term
In Liv Inger's term as rector, Samuel Valkeapää is pro-rector and they will work together in the rector's term 2023 to 2027. They have clear wishes and goals about what they will work on during the rector's term, which they communicated during the rector's election.
- Our goal during the rector's term is for Sami university of applied scienses to be an attractive place for both students and staff. Students who start our studies should know that their priorities and years at Sami university of applied scienses have been useful. At the same time, we must prioritize a good working environment and well-being at work. Employees must know that they are an important part of the working environment, that they help shape the work culture and work together to achieve the institution's main goals. It is also important that we have a dialogue with society and find common solutions to the needs and deficiencies that exist.
The institution has challenges; one of them is to get enough students for kindergarten and primary school teacher training; large variations in the applicant pool bother the new rector. If we don't have enough students, that will also have consequences. It is one of the most important issues this autumn and therefore the new rector has asked for a meeting with Minister Sandra Borch (SP) where she will present the situation for Sami higher education and research.
At the end of the interview, the new principal says that she believes her and Samuel's tenure as principal will be a positive experience.