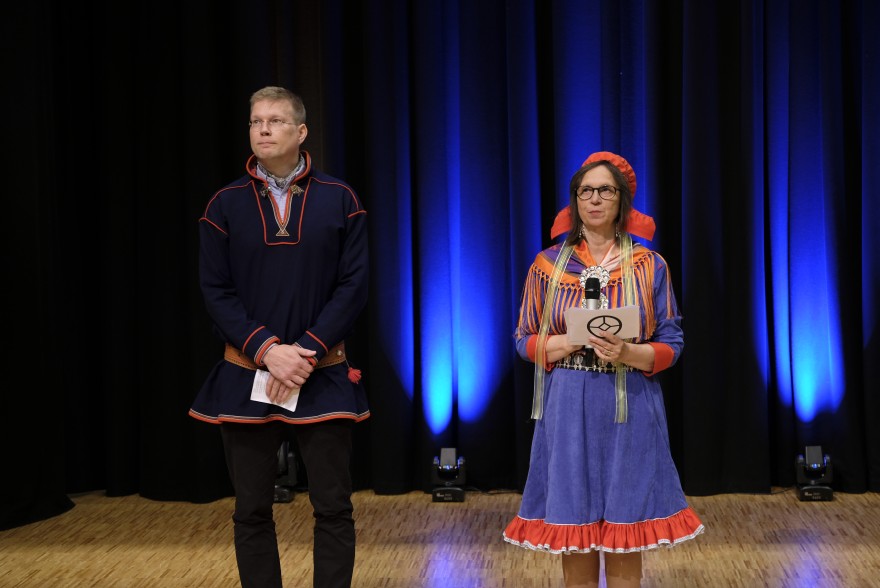 August 16. beaivi 2023
Official Opening of a New Academic Year
Today marked the official opening of the new academic year at Sámi University of Applied Sciences. The new rector, Liv Inger Somby, and pro-rector Samuel Valkeapää delivered their welcome speeches, extending their greetings to more than 240 students.
In their opening speeches, both the rector and vice-rector highlighted the positive trend that Sami students are experiencing and their attractiveness in the job market. A significant number of students secure job opportunities even before completing their education. The new leadership expressed their hope that students prioritize completing their studies, with the anticipation that doing so would reveal even more possibilities and pathways for them.
The significance of Sami language education and its valuable role in society was also emphasized. The Sami community requires individuals proficient in Sami language across all levels, including North, Lule, South, Skolt, Pite, and Ume Sami.
Council member of the Sámi Parliament Mikkel Eskil Mikkelsen (NSR), was also present at the school year's opening, providing valuable advice to students, particularly about living in the present moment and seizing the opportunities that arise. The event featured speeches from Mayor Hans Isak Olsen of Kautokeino Municipality, Áslat Holmberg, President of the Sámi Council, Bente Haug, Vice-Rector of UiT The Arctic University of Norway, and Martin Velky, Leader of the Student Board. The traditional ritual involving Sami guides, symbolizing the commencement of their duties and responsibilities, was also performed. The traditional ritual involving Sami pathfinder, symbolizing the commencement of their duties and responsibilities, was also performed.
Throughout the opening week, SUAS will organize a variety of events for students. These gatherings offer a unique chance for students to acquaint themselves with their peers and explore the campus. The university extends a warm welcome to all students and sends its best wishes for the upcoming academic year.
For a detailed schedule of events during the opening week, please see below.